Jefferson's Ocean – Voyage 16
EXPLORE THE JOURNEY ON THE INTERACTIVE MAP STARTING FROM THE PORT OF SAVANNAH, GEORGIA
< Back to Voyages
HOVER OVER THE ICONS ABOVE TO EXPLORE THE VOYAGE ROUTE
MAP LEGEND
PORT
SHIP / ROUTE DETAILS
SEA CONDITIONS
TEMPERATURE
WEATHER CONDITIONS
SHARE THIS VOYAGE
Captain's Log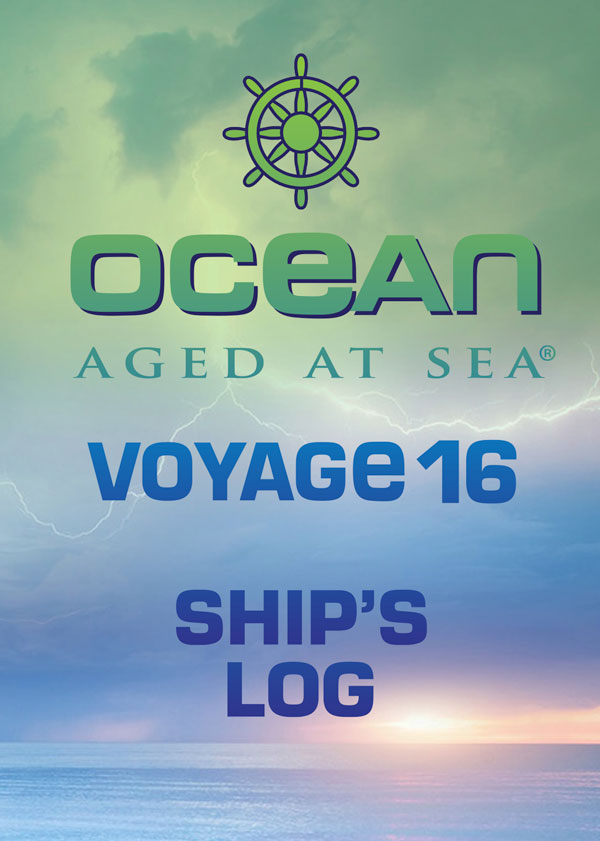 OCEAN Voyage 16 will be forever known as the voyage of great contrast. Some are predictable. Others are surprising and awe inspiring. Depending upon the season of departure, crossing the equator will take you from Summer to Winter or Spring to Fall and, the point at which the ship makes the crossing is very precise. Below the equator, the Southern Cross can always be used to find due south while above the equator, Polaris will always point you north. Not so obvious, passage through the Panama Canal will take you up and down vertically by 85 feet. Not exactly ear-popping but an expected contrast none the less.
Contrasts that are unpredictable are driven by weather and Voyage 16 encountered extreme contrasts in temperature and sea conditions along the way: Clear skies and storms. 100 degree temperatures to well below freezing. Smooth to 30′ high seas (the roughest ever recorded). There were nights that were so dark and calm that the only ambient light came from the green glow of disturbed algae in our wake and days so clear that we could see clouds and lightning from storms well over the horizon. In the South Pacific, it was so hot and still, the only breeze came from our forward momentum and sleeveless work shirts were barely tolerable. In the North Atlantic, the howling wind through the tie-down cables was loud enough to drown out the roar of the engines and so cold that survival suits were required for anyone on deck to be protected from sea spray that froze to metal surfaces on contact.
It was these unpredictable contrasts that made OCEAN Voyage 16 unique and while while the superb quality of Jefferson's fully matured and meticulously blended bourbon is expected, the improbable contrasts encountered in its additional time at sea greatly enhanced the brightness of the bourbon, its brininess from exposure to the salty air and notes of caramel extracted from the ever-rocking barrels making OCEAN Voyage 16 even more stunning than when the voyage began. Savor the Unpredictable! Enjoy OCEAN Voyage 16.